How The Chesapeake Bay Bridge Changed Maryland Forever
[ad_1]

Falstad got involved with the Bay Bridge in 2016, when Governor
Larry Hogan announced a two-tier National Environmental Policy
Act (NEPA) study, which aimed to identify the best site for a new bay
crossing from 14 potential locations up and down the estuary in order
to address the current and projected congestion. According to the Tier
1 study, in 2017, the bridge carried about 68,600 vehicles per day with
three hours of congestion on non-summer weekdays, and 118,600
vehicles with 19 hours of congestion on summer weekends. By 2040,
the state projects that to increase to seven and 22 hours, respectively.
Two years into the process, Governor Hogan let his preference
be known on Twitter, disheartening some Anne Arundel and Queen
Anne's residents already beleaguered by bridge traffic and relieving
other communities who had been afraid for the future of their
shorelines: "There is only one option I will ever accept: adding a
third span to our existing Bay Bridge."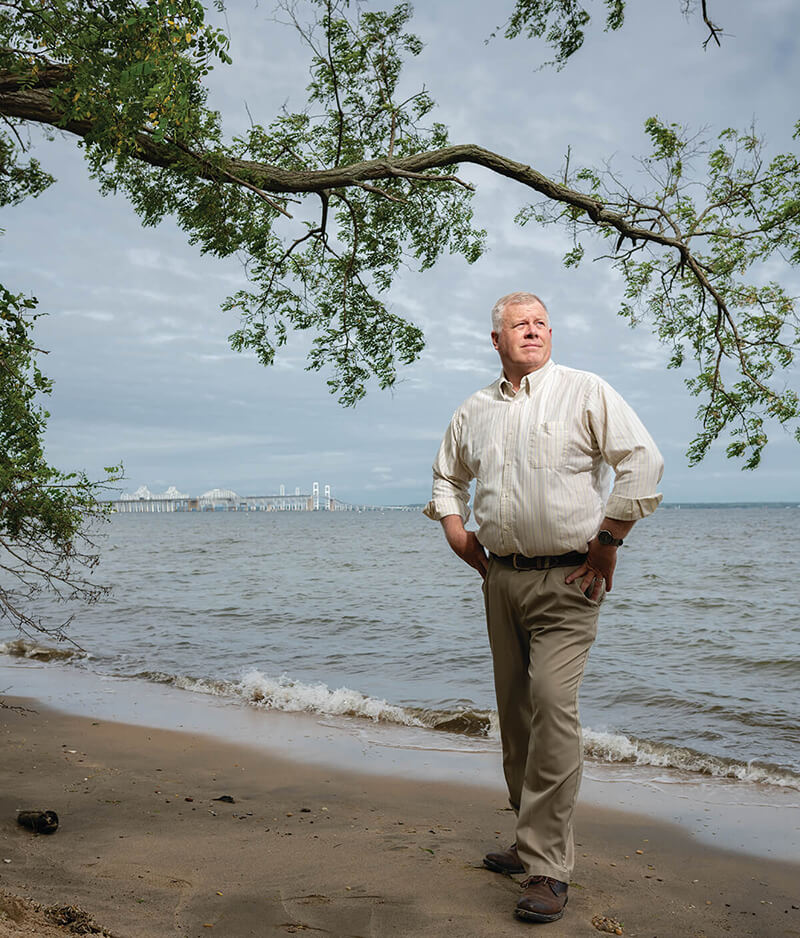 Community activist Jay Falstad at the Terrapin Nature Park in Queen Anne's County on the Eastern Shore. Photography by MIKE MORGAN
And this April, he got his wish: The Maryland Transportation
Authority (MDTA) and Federal Highway Administration officially
chose the 22-mile Corridor 7—just west of the Severn River Bridge in
Parole to the U.S. 301-Route 50 split in Queenstown—said to likely be
the cheapest, least environmentally impactful, and most congestionrelieving
of all the potential routes.
No one will know exactly what that crossing looks like until the
end of the multi-year Tier 2 study, which has yet to begin. A third
span, a whole new replacement bridge, or even a bridge-tunnel have
all been thrown around, estimated to cost up to $13.1 billion. In Tier 1, a high-speed rail line was eliminated as an alternative,
deemed too expensive for further review, while rejuvenated
ferry and bus service were found unlikely to adequately
reduce congestion as stand-alone options.
The latter two, in addition to other alternatives, such as
variable toll rates for peak hours or high-occupancy vehicle
lanes, could be considered in some combination in Tier 2,
though likely still in conjunction with new construction. In
the meantime, some improvements have been made, from the
removal of Outerbridge's beloved toll plaza for all-electronic
tolling, and this fall's replacement of rudimentary orange barrels
with automated gates for contraflow—aka that occasional
two-way traffic. "This has been a very highly seen project for
the region and, as you can imagine, we received the gamut of
public comments," says Heather Lowe, MDTA project manager
for the NEPA study. "But we heard loud and clear that the congestion
at the Bay Bridge now is a problem."
Environmentalists and community activists don't disagree.
"The traffic congestion is a problem and it needs a
solution, not in 2040, but now," says Steve Kline, president
of the Eastern Shore Land Conservancy and Centreville Town
Council, whose grandfather was a Sparrows Point iron worker
on the first span. "We do not believe that a new Bay Bridge
solves this problem any more durably than the previous
bridge. A two-lane bridge was not sufficient for very long. A
five-lane bridge has proven to not be sufficient for very long.
If we add more lanes, how long will that be sufficient? Maybe
it can make traffic at the bridge half as bad—for 10 years. But
then it's going to be right back to where it is now, and people
will be sitting here having this same debate."
Kline is referencing the economic concept of "induced
demand," which has found that the initial benefits of
congestion relief fade within a decade, simply drawing in more
cars and filling the new capacity. (See: The Baltimore Beltway.)
"If you build it, they will come," says Erik Fisher, land-use
planner for the Chesapeake Bay Foundation,
who hopes the state will work to offset the
environmental impacts of a new crossing, to be
studied in Tier 2, such as habitat loss and water
pollution in a region at the forefront of climate
change. "We know more roads bring more cars.
We need to think more broadly about how to get
people where they want and need to go without
forever expanding the pavement."
Which brings us to the great paradox: How do
you alleviate traffic—including the GPS-stymied
sideroads that block emergency vehicles and hinder
homeowners from leaving their houses on summer
weekends—without increasing development
pressure in a place sought out for its rural nature?
The answer is unclear, and fingers get pointed
over who created the problem in the first place.
"The bridge is not the problem—development's
the problem," says Secretary of Transportation Jim Ports, who
grew up driving to the beach from Baltimore. "I mean, Ocean City
becomes the second largest city in the state during the summer.
. . . The expansion of Queen Anne's County, of Anne Arundel
County, of other shore counties, as well as Ocean City, is what
created the overcapacity problem. . . . And they're continuing
to expand now while they know it's a problem. It's not going to
stop, whether we build a bridge or not," emphasizing that landuse
planning takes place "on the local level."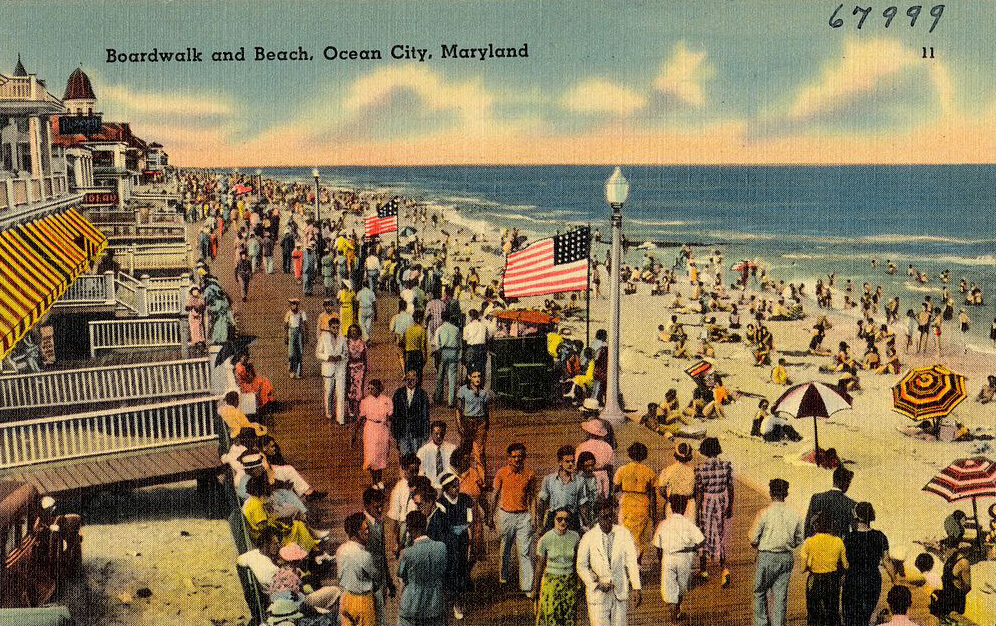 A vintage postcard between circa 1930 and circa 1945.
"Land use should begin at the local level, but when the
state makes the decision to invest billions of dollars into a
transportation system to an area, they're making a decision
for the local folks," counters Anne Arundel County Executive
Steuart Pittman. "They're putting additional development
pressure on the localities by doing so, and they know that."
There are mixed messages from these small towns, who
on the one hand want to keep their pastoral charm, and
whose local governments on the other make decisions that
put that very character at risk. In Queen Anne's, where more
than 70 percent of the workforce commutes out of county,
land use for commercial real estate, high-density housing,
and transportation has increased by 24, 30, and 696 percent,
respectively, since 1973, taking 21,000 acres of farmland with
it. In 2020, the Talbot County Council (minus Lesher) gave
the greenlight to the controversial Lakeside development that
would bring 2,501 homes to Trappe, population 1,228. And
then there's Ocean City.
"The question that nobody's asking, except for maybe a
couple Wicomico County commissioners, is can the beaches,
which are already crowded, already having an incredibly
difficult time finding staff, accommodate or handle induced
demand?" poses ESLC's Kline, who calls the traffic a "16-week-a-
year problem." "How much more can we love these beach
communities before it perhaps becomes a problem of loving
them too much?"
Ninety-seven percent of buildable land has been developed
in Ocean City, which includes more than 10,000 hotel rooms.
And the updates to West Ocean City's sewer and water service
could prime the former suburb for further spillover.
"I think there's still room to grow here," says Ocean City
Mayor Rick Meehan, a Coldwell Banker real estate agent,
estimating that the majority of his town's now eight million
annual visitors come from the Bay Bridge, though others also
undoubtedly arrive via the expanded Route 1 in Delaware. "I
think the pleasurable culture of the Eastern Shore is affected
today by the current capacity issues. . . . [A new bridge] will be
certainly more beneficial than it will be detrimental."
Meehan has signed on to a coalition of officials
from 12 of Maryland's 23 counties, led by Queen Anne's
Commissioner-at-large Jim Moran, some of whom have
specifically asked for a replacement bridge featuring a
minimum of eight lanes, larger than the six-lane Brooklyn
Bridge and San Francisco Golden Gate.
"Will there be more traffic? There always will be more
traffic," says Moran, who owns a concrete company in
Crofton. "Going from five lanes to eight lanes with shoulders
for safety reasons will allow that traffic to flow."
And now the exact scale will be decided sooner than
originally thought, as Governor Hogan announced in June that
he would be fully funding the $28-million Tier 2. "People have
kicked the can down the road for literally decades . . . no one
ever took the steps to say, how are we going to fix this, and
that's just what we've decided to do," he says. "This really has
to do with the health of the entire state."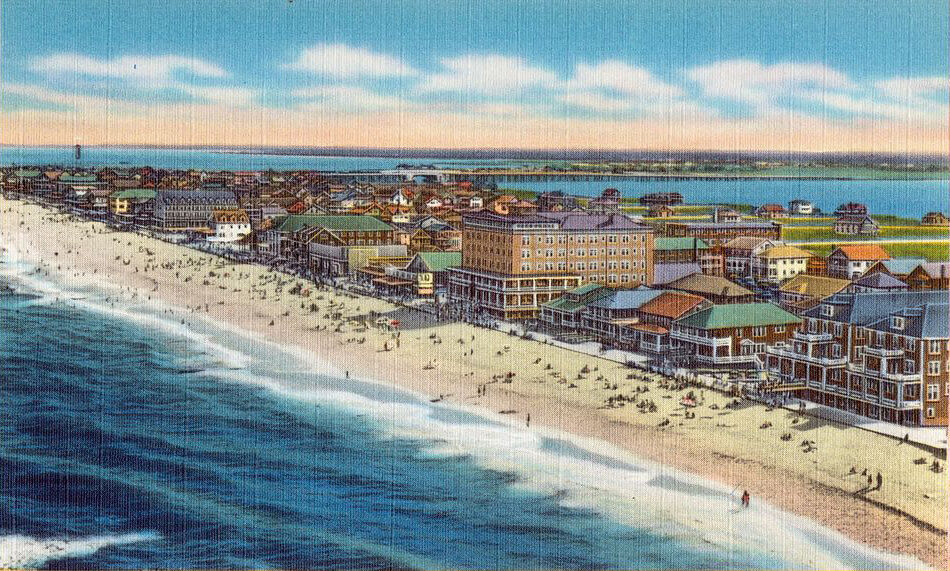 A vintage postcard between circa 1930 and circa 1945.
Hogan, who is nearing the end of his final term, has
made the bridge corridor a top priority of his administration,
paving the way to the beach through Route 404 expansion,
Salisbury bypass upgrades, and funding for the congested
Ocean City Expressway. (For the record, his Annapolis-based
real estate company, currently owned by a non-blind trust
and run by his brother, Timothy, also has multiple development
projects in Anne Arundel County and on the Eastern
Shore, among other locations.)
"You have to ask yourself: With so many unanswered
questions, why the rush?" says QACA's Falstad, who hopes the
state will exhaust its transportation management strategies
and non-car alternatives before constructing a multi-billiondollar
crossing. "There are other projects in Maryland that I'm
sure Larry Hogan can put his name on. This doesn't need to be
one of them."
That said, Secretary Ports says managing the bridge boils
down to sheer volume. Ninety-one percent of commuting
adults use a personal vehicle, and car ownership, increasingly
electric or not, continues to outpace people. The comparatively
affordable $2.50 base toll likely doesn't hurt, either.
"It's a difficult task and you get a lot of criticism, but at
the end of the day, we could do nothing, and it would really
back up," he says. "As I've told people on both sides of the shore: If you can tell me how to put eight gallons of water into a
five-gallon bucket, I'm all ears. That's the traffic problem that we
have on the bridge—there's just too many cars trying to go at the
same time for two or three lanes of traffic. Period."
[ad_2]

Source link